Table of Contents
1. Coolors
2. Wordtune
3. Bubbles
4. PandaDoc
5. Mailchimp
6. Notion
7. Canva
8. Kapwing
9. Tally
10. Spark Email
11. Final words
As a small shop owner, you're likely wearing many hats running your business, from setting up, fulfilling orders, sales marketing to customer service. It can be tough when there are a lot of manual work involved that are incredibly time-consuming and often times you find yourself juggling many of those at the same time.
Here are 10 essential tools that can automate and streamline a lot of those work for you, so you can focus on the more important work: Planning and growing your business. A lot of them have very generous Free plans and most of the time, they are more than enough for you to run your business. 
What is it: Color scheme generator
Free limit ⭐️⭐️⭐️⭐️⭐️
It doesn't matter which business you are in or what you sell, chances are you will always have to play around with designs, and more specifically, colors at some point. Every brand should have a color palette, but where do you save it for quick access when you need it? Most importantly, how do you come up with a palette in the first place?!
For those reasons, Coolors has been my go-to because it helps you generate color schemes and lets you save them in your account. 
Use cases:
Generate color palettes
Manage saved palettes 
Convert to different color formats (HEX, RGB, CMYK...) 
 Alternatives:
What is it: A sentence rephrase tool
Free limit ⭐️⭐️⭐️⭐️
Wordtune makes writing easy for non-writers because it helps them articulate their thoughts. It is an amazing Chrome extension that rephrases sentences to help you write better, faster. Their suggestions are consistently the best I have ever come across.
The Chrome extension is especially handy which allows you to rephrase anywhere you type.
They have a Free plan which is good enough for most people, and a Paid plan (from $9.99) that has more features such as Shorten/Lengthen, changing between Formal and Casual Tones, and Premium Support.  
Use cases:
Speed up your writing process
Rephrase your sentences
Elaborate your ideas
Alternatives: 
Quillbot
Grammarly and Pro Writing Aid only focus on fixing grammars and spellings, not improving sentences.
What is it: A screen recorder tool
Free limit ⭐️⭐️⭐️⭐️⭐️
Bubbles is a screen recording tool that helps businesses create great videos with zero learning curve. Unlike competitors such as CloudApp or Loom, this tool is completely free for everyone to use and allows you to easily capture your screen and annotate with voice and text. Since its creation, Bubble has developed into a well-rounded tool that allows you to create & share annotations and voice memos easily.
 1...2...3..Record and share
You can record yourself talking through the screen while making live annotations.
Use cases: 
Record how-to videos for training
Send troubleshoot videos instead of having to type out your issues
Send video explaining a project: This one is particularly useful for us. We work with a lot of designers over the years, and I've found that sending them a brief sometimes is just not enough. With Bubbles, we can open the brief, along with any other references (website, examples..) and talk through the whole thing & send them the video. That way we can explain the concept in much more details.
Send quick thank-you videos to your customers
Alternatives:
What is it: E-signature tool
Free limit ⭐️⭐️⭐️⭐️⭐️
PandaDoc is a super simple tool that lets you create, approve, track and e-sign documents. As you run your business, there will be times when you will need to sign agreements, or send proposals. I've only recently learned about PandaDoc and it's generous Free plan, which includes "unlimited legally binding eSignatures". 
Get your documents signed hassle-free
Use cases: Sign and request signatures for
Collaboration agreements
Contracts (employment, service, order)
Proposals
Wholesale agreements
Alternatives:
What is it: Email marketing app
Free limit ⭐️⭐️⭐️
When it comes to email marketing tools for online shops, Mailchimp is often one of the most recommended choices because it's free, easy-to-use and has tons of features. You'll get all these benefits with their Free account which allows sending unlimited emails per month and having up to 2,000 subscribers (!)
Every seasoned marketer will tell you that your email list is the most important piece of asset you can own, so you should start growing your email list as soon as you start selling. 
Main use cases:
Sending post-purchase email to thank them and recommend other products
Sending newsletters
Unlimited Forms and landing pages (good for collecting emails from online events & giveaways)
Alternatives:
Flodesk: $19/mo using a referral link. Unlimited contacts and emails
Klaviyo: Free plan for up to 200 contacts. It's expensive but it is the best among all email marketing tool out there for e-commerce stores, thanks to its deep integration with Shopify. 
What is it: Your business workspace
Free limit ⭐️⭐️⭐️
I absolutely love Notion. Ever since I switched to Notion, I convinced everyone in my team and everyone else in my circle to start using it. 
In our business, it has become our team's operating system. Think of it as Google Docs and Google Sheets, but where those files can link with one another. If you have used Evernote, Google Docs, Trello... then Notion is a definite upgrade.
Being able to consolidate the entire workflow of your team is a godsend. In fact, Notion is so good that I have tried and ditched all the the project management tools including Trello, Monday.com, ClickUp, etc., since every collaborative work can be done inside Notion. 
Use cases:
Team's wiki: knowledge base and how-to documents
Tracking expenses
Managing projects
Logistics: managing purchase orders, shipment etc.,
Shared docs/pages, either with your team or publicly (we even use it to share Job Descriptions whenever we hire)
Alternatives:
What is it: Graphic editor tool
Free limit ⭐️⭐️⭐️⭐️
Unless you have not yet started your business, or have been living under a rock, chances are you already heard of Canva. Canva is a simple graphic design platform which makes designing visuals easy and fun. You don't need to be tech-savvy nor do you require any coding knowledge to make professional looking graphics using their massive and ever-growing templates. They even provide step-by-step tutorials so beginners won't feel overwhelmed.
Although it started out as a basic graphic design tool with pretty templates, Canva now allows you to create all kinds of visual creatives. It's also super intuitive and beginner-friendly (have I already said that??). I still find myself using Canva to whip up simple images or even videos sometimes quicker than working with graphic designers. 
Use cases:
Social media graphics
Presentation
GIFs
Videos
Ebooks
Alternatives
Adobe suite
Crello
Glorify
What is it: Graphic and media editor
Free limit ⭐️⭐️⭐️⭐️⭐️
Between all the fancy editing tools and your graphic designers, sometimes you just need a quick edit without the steep costs and learning curve of Adobe Premier or Final Cut Pro. Kapwing is your go-to suite of tools for that.
The list of things you can do with it is so long, you'd need to scroll down to go through all of them. Some highlights that you would need to pay with other tools, that are free are:
Add progress bar to video
Add audio to video
Subtitler
Adjust brightness, saturation and other color settings
Meme generator
Resize Images, GIFs and videos
Stop-motion maker
It's simply criminal in this day and age to be able to do all of these for free, let alone on one single platform.
With the Free plan, there's absolutely no watermarks. You can export videos of up to 7 minutes long, up to 3 hours/month with a limit of 250mb file upload. For those short, quick videos this is pretty much everything you need most of the time.
What is it: A form builder tool
Free limit ⭐️⭐️⭐️⭐️⭐️
If you're (1) still using Google Forms for hosting job applications or customer surveys and (2) love Typeform's beautiful, minimalist forms but (3) don't want to pay $25/mo for it, then you should look at Tally.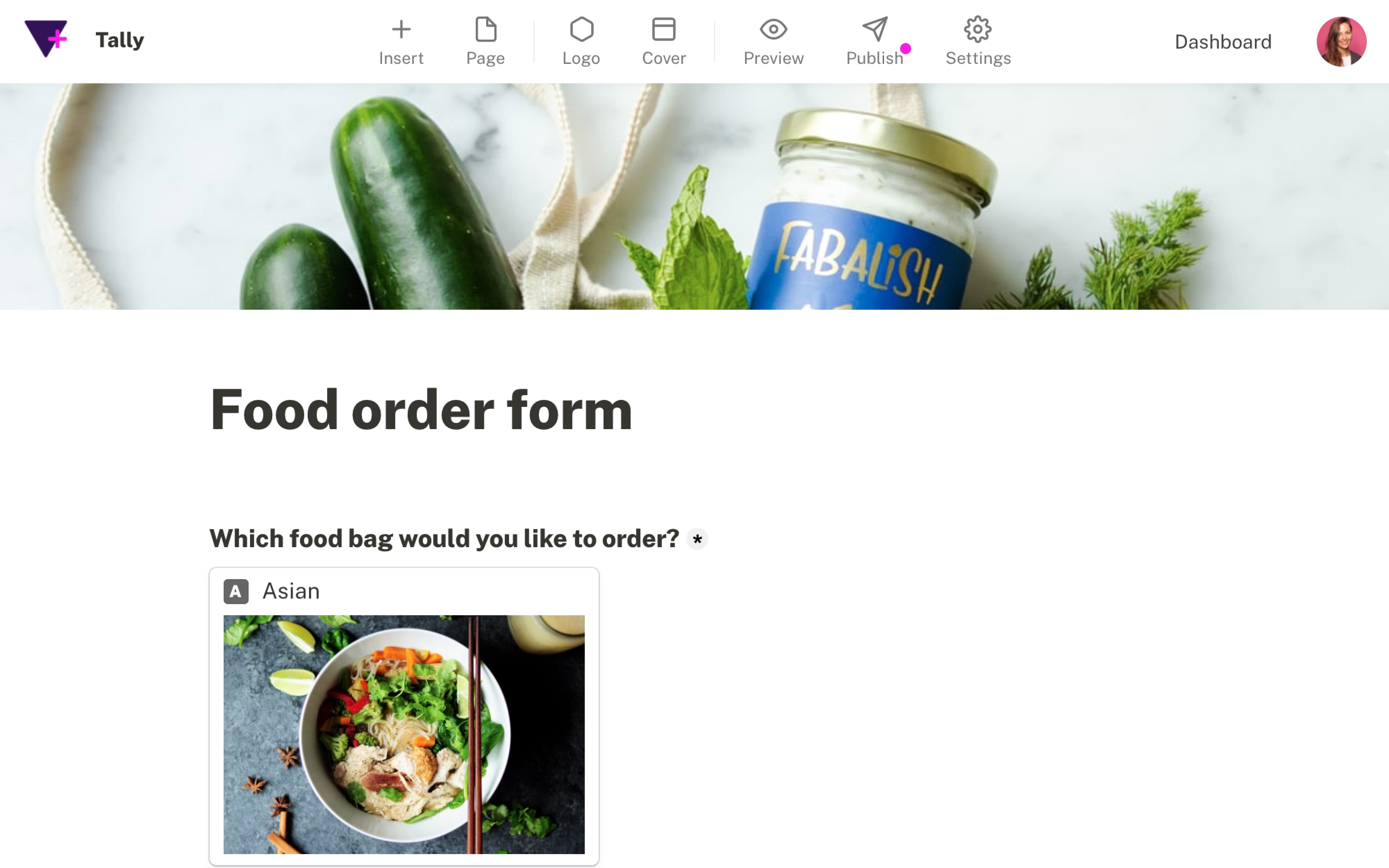 In their own words: "Tally is a form builder that works like a doc. Just type / to insert form blocks and @ to mention question answers". That sounds a lot like Notion (and the interface even resembles Notion too!). You can create unlimited forms quickly with Tally with unlimited entries on the Free plan, as long as you're ok with some small Tally branding. 
If you want to personalize your form further than what's available on Google Forms, then definitely consider this one.
Use cases: 
Customer feedback form
Market research form
Job application form 
Take payments
Order form
Alternatives:
Typeform
Google Forms
Blocksurvey
QuestionScout
Also read: How to Set up Back in Stock Forms
What is it: Email client on mobile & Mac
Free limit ⭐️⭐️⭐️⭐️⭐️
I've been using Spark on my mobile for years, but for some reason I've only recently found out that they also have a desktop app for Mac too. 15 minutes in, I quickly learned 2 things: The desktop app is mind-blowingly fast, and that it helps you to be super productive with email 😱
Features I love:
Manage (unlimited) multiple inboxes
Create email templates with placeholders (!)
Share and co-draft emails with team members
If you constantly have to draft the same email responses to people, Templates is a game-changer. Similar to GSuite, you can create and save email templates, but the placeholder feature is where it stands out.
So, so simple but incredibly effective, as you can choose from the pre-defined fields such as your first/last/full name or that of the recipient's for personalization. Additionally, you can create custom placeholders that you'd need to fill in manually. They appear in orange (see screenshot below) so you won't miss them when reviewing the draft.
So far I have created templates for customer service FAQs, common email responses (got your email, will get back to you soon!) and even detailed inspection request emails for our business orders that used to take me 30-45 minutes to put together.
I have tried Station, Wavebox.io, Shift, Getstack, etc. in the past but for managing multiple email inboxes, Spark blows everyone else out of the water with its blazingly fast speed.
The Team member feature is also helpful since you can get multiple people in your team chime in and draft the email at the same time. You can also discuss the email in the chat which can be very helpful in specific cases. The Free plan comes with the ability to have 10 members for email delegation, and 2 active collaborators in total.
Also read: Using Switchy for Auto-Draft SMS
Alternatives:
Apple Email
Postbox
Mailbird
Outlook
Final words
"I'm excited to spend hours on email work!", say no one ever when starting their business.
We all want to spend time doing the things we love, creating products for our customers. That's also the reason why I'm part-obsessed with productivity tools that can help me reduce the time doing all the chores in the business and focus on what I do best.
These tools above have collectively saved us thousands of $$ in software costs and hundreds of hours from the previously dreaded workflow we used to have. I hope that you find them useful. Is there any other tool you love that is not on this list? Make sure to share with us in the comments below!