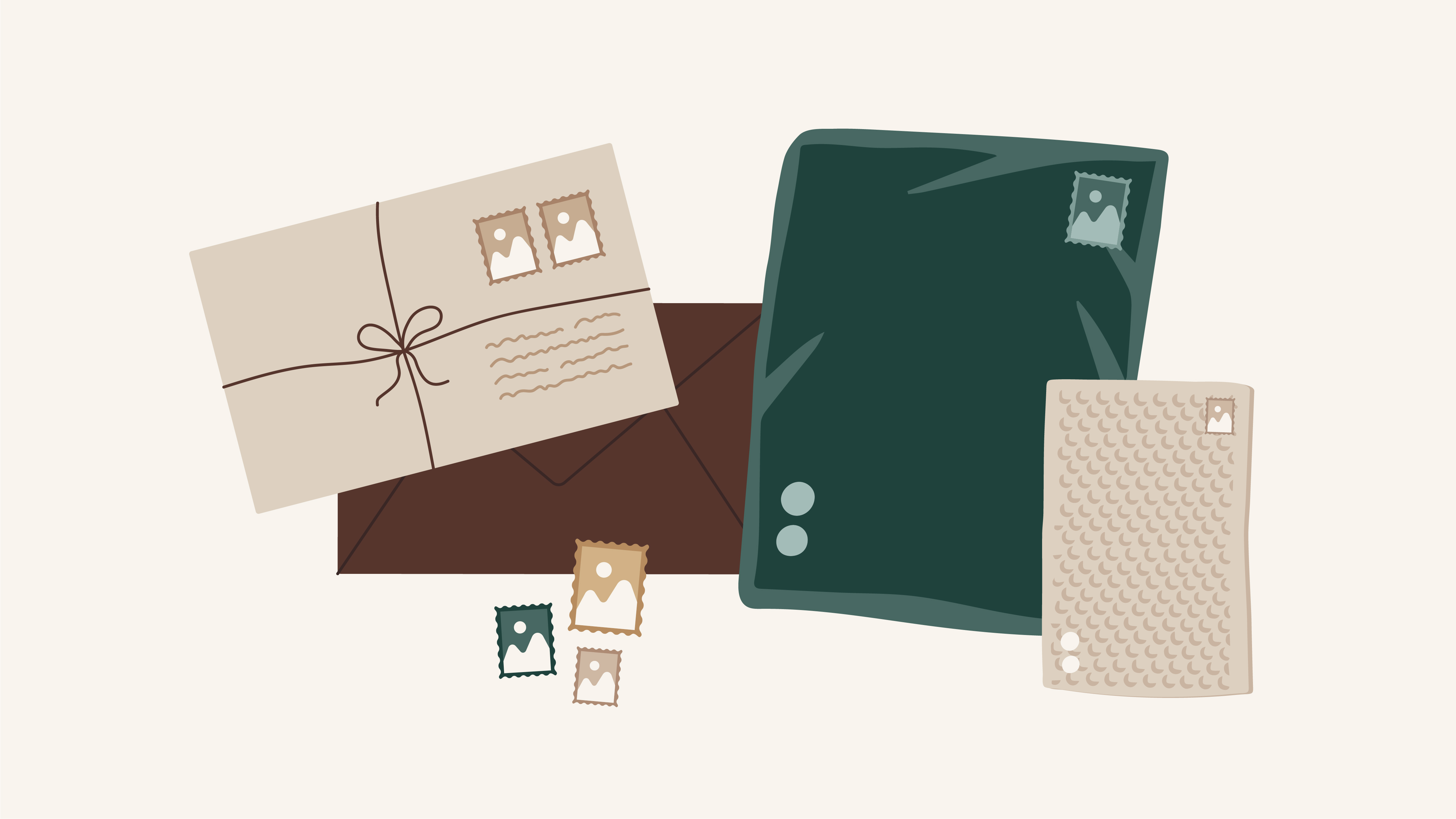 Table of Contents
1. When Do You Send Items Using Stamps?
2. USPS Size & Weight Limits
3. Canada Post Size & Weight Limits
4. Stamp Alternatives
5. Shipping Bubble Mailers Using Stamps
Shipping accounts for a large portion of the cost for both the business owner, and ultimately the customers. Using stamps to send packages is a simple and affordable way to ship items. But what is the package limit for stamps?
 Maximum size you can send using stamps:
US: Large Envelopes or boxes (Flats)
First-Class Mail 15" x 12" x 0.75" with the max weight of 13oz, or 38 x 30 x 1.9cm with the max weight of 368.5g
Canada: Non-standard and oversize mail
38 x 27 x 2cm with the max weight of 500g
First-Class Mail for packages weighing less than 13 ounces.
Priority Mail and Priority Mail Express for heavier packages up to 70 pounds. 
USPS Retail Ground for packages up to 70 pounds with lengths and girth not exceeding 130 inches.
If you're planning to mail a package, here's a quick guide to help you know the size of the package you can mail with stamps and decide which service is best for you. 
Sending thin packages using stamps is a great option for sending thin packages, as it is hands down the cheapest option available. 
If the postage is not sufficient to cover the cost of delivering the mail, the package or letter may be delayed or the person receiving it may need to pay for the additional postage in order to receive it. This makes it important to know about the size and weight requirements when sending packages by mail.
Knowing the shape of your mail or package can help you choose the right services and know how much you will pay. Letters and large envelopes (flats) are what can be sent using stamps. Parcels, on the other hand, must be sent using tracked mail, such as Priority Mail or using Flat Rate boxes. 
What you can mail with USPS and their required dimensions are as follows:
USPS Mail & Package Shapes:
SHAPE OF ITEM

LENGTH (inches)

HEIGHT

(inches)

MAXIMUM THICKNESS (inches)

WEIGHT NOT OVER

(oz)

Postcards

5 to 6 

3-1/2 to 4-1/4

0.016 in

 

Letters

5 to 11-1/2

3-1/2 to 6-1/8

1/4 in 

3.5

Large Envelopes (Flats)

11-1/2 to 15

6-1/8 to 12

3/4in

13

Parcels

Length (longest side of the parcel) and girth (measurement around the thickest part) combined should not be more than 108 inches. 

For USPS Retail Ground, it must be not more than 130 inches.

The package should not be more than 70 pounds in weight.
*Data are based on the guidelines provided here: https://pe.usps.com/text/dmm100/mailing-domestic.htm and https://pe.usps.com/cpim/ftp/manuals/dmm300/Notice123.pdf.
**Overweight and oversize pieces are nonmailable and will be assessed overweight and oversize item charges, respectively. In these cases, there are no refunds for postage and fees.
The USPS categorizes mail according to classes. Among the commonly used mailing class options with USPS are Priority Mail, Express Mail, and First-Class Mail. 
First-Class Mail
USPS First-Class Mail is a cost-effective option for sending lightweight personal and business packages. 
The weight limit for commercial flats or large envelopes is 13 ounces, and for First-Class Package service or commercial parcels is 15.999 ounces. Packages with an irregular shape or that are non-machinable may incur additional charges. 
What can be sent: Letters, cards, jewleries, prints, small art work such as paintings, and other small packages. . 
Delivery time: Delivery is typically within 1-5 business days for letters and 2-5 business days for small packages. First-Class Mail also offers forwarding and return services, as well as extra services like Registered Mail and Certified Mail.
A First-Class Mail Forever Stamp can be used to cover the postage cost for First-Class Mail. This stamp can be used to mail a 1-ounce first-class letter regardless of when it was purchased or the current postage rate. It differs from regular postage stamps as it has a non-denominated value, meaning it will always be valid for a 1-ounce first-class letter, even if postage rates change in the future. This eliminates the need to purchase new stamps or pay extra postage when rates change.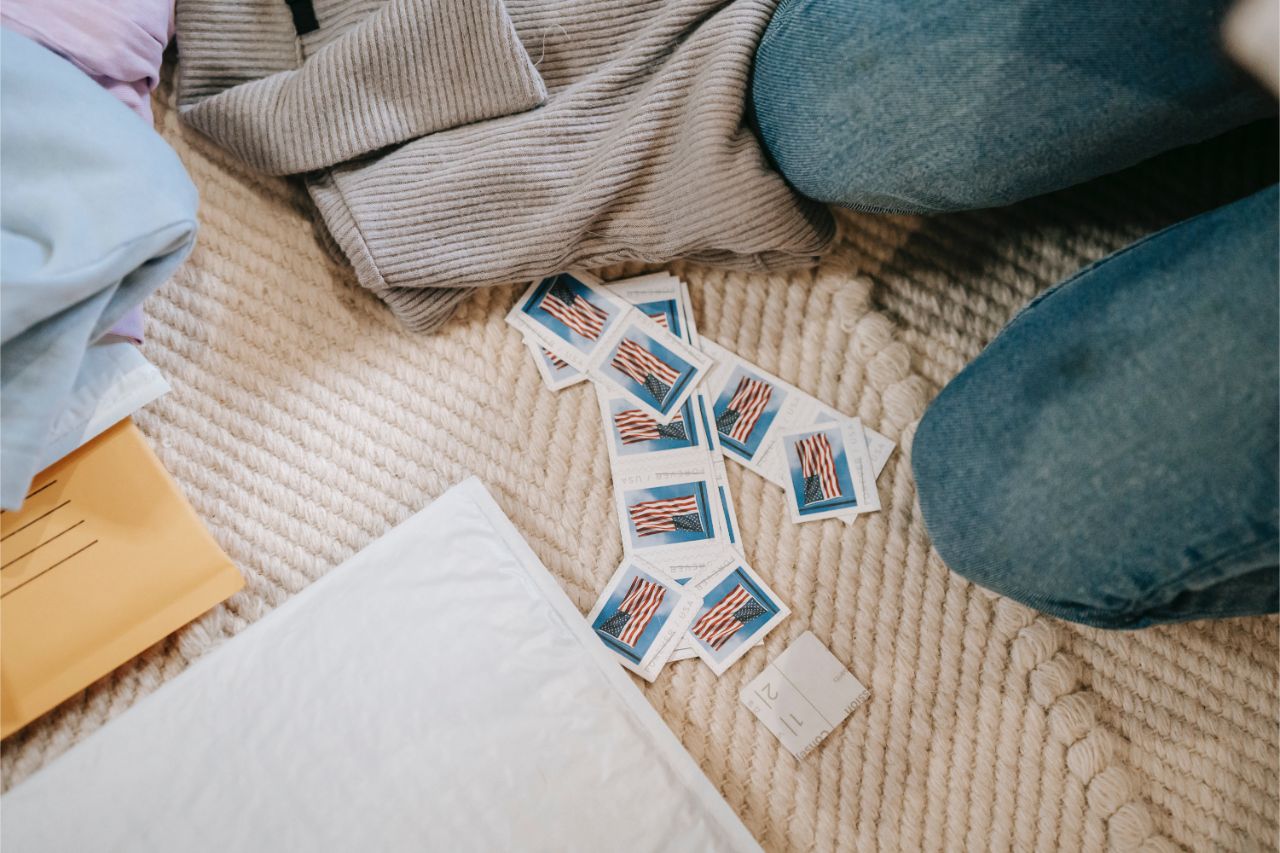 If you're sending mail through Canada post, you can send two types of mail using stamps: standard-size mail and non-standard & oversize mail.  
A standard-size mail can weigh anywhere from 2 g up to 50 g, and the maximum dimensions are 245 mm x 156 mm x 5 mm (9.6 inches x 6.1 inches x 0.2 inches). 
Standard-size mails include items like postcards, standard cards, and letter envelopes.  
Non-standard and oversize mail can weigh up to 500 g. The maximum dimensions for this type of mail are 380 mm x 270 mm x 20 mm (14.9 inches x 10.6 inches x 0.8 inches). The minimum dimensions for both types are 140 mm x 90 mm x 0.18 m m (5.6 inches x 3.6 inches x 0.007 inches). 
Non-standard and oversize mai includeheavy cards, oversize envelopes, and large documents. The minimum weight for non-standard mail is 3 g and 5 g for oversize mail. This is the most typical tier that shop owners would use to send their small packages using stamps.
Packages over 500 grams must be sent using one of the parcel services such as Regular Parcel, Flat Rate Box, Priority Mail, etc,.   
Summarized in the table below are the postage stamp rates for each type of mail based on its size, weight and destination.
TYPE OF MAIL

PRICE

Standard Size Mail

Canada

U.S

International

≤

30 g (

up to 5 sheets of paper)

$1.07 for a single stamp or $0.92/stamp in a booklet

$1.30

$2.71

>30 g up to 50 g (

up to 9 sheets of paper)

$1.30

$1.94

$3.88

Non-standard and oversize mail

 
 
 

≤

100 g

$1.94

$3.19

$6.39

>100 g up to 200 g

$3.19

$5.57

$11.14

>200 g up to 300 g

)

$4.44

$11.14

$22.28

>300 g up to 400 g (u

p to 80 sheets of paper)

$5.09

$11.14

$22.28

>400 g up to 500 g 

$5.47

$11.14

$22.28
Etsy's "Get Shipping Labels"
Etsy offers shipping labels for USPS, Canada Post, FedEx, and other carriers through the Get Shipping Labels service. This service does not require additional membership fees and integrates with shipping carriers to provide up-to-date tracking information and discounts on postage rates. You can print labels at home or at the office and put the stamp on an envelope yourself, reducing time spent at the post office and risk of shipping errors. 
Furthermore, the Get Shipping Labels service integrates with known shipping carriers, which allows it to provide up-to-date tracking information for shipped items. You can even request refunds if you don't get to use the labels, and, more importantly, you can avail of some postage discounts. 
For example, if you're going to purchase a USPS shipping label for your Etsy package, you can get it for a rate that is up to 30% lower than the USPS retail rates you would find somewhere online or at the post office.  
To get a shipping label from Etsy, you will need to provide the following information for an accurate estimate of its cost.
Package type, which depends on the order package

Package weight

Physical dimension of the package, which includes length, width, and height

Type of delivery service 
Once you're done putting in the package details, you'll have a preview of the cost you need to pay.  
For USPS labels, the cost of the label is based on cubic pricing for qualified Priority Mail products bought through Etsy. This means that the cost is determined using the size of the package and the distance traveled, not by the package weight. This is helpful if you're a business owner who often ships small, heavy items like coffee beans.
A Priority Mail package that qualifies for cubic pricing should measure up to 0.5 cubic feet. To know how many cubic feet your package is, simply multiply its length, width, and height and then divide the answer by 1,728. The packages should also weigh less than 20 pounds and with sides that are less than 18 inches. 
If you want detailed instructions on how you can buy shipping labels on Etsy, click here. For more details about USPS shipping labels on Etsy, click here.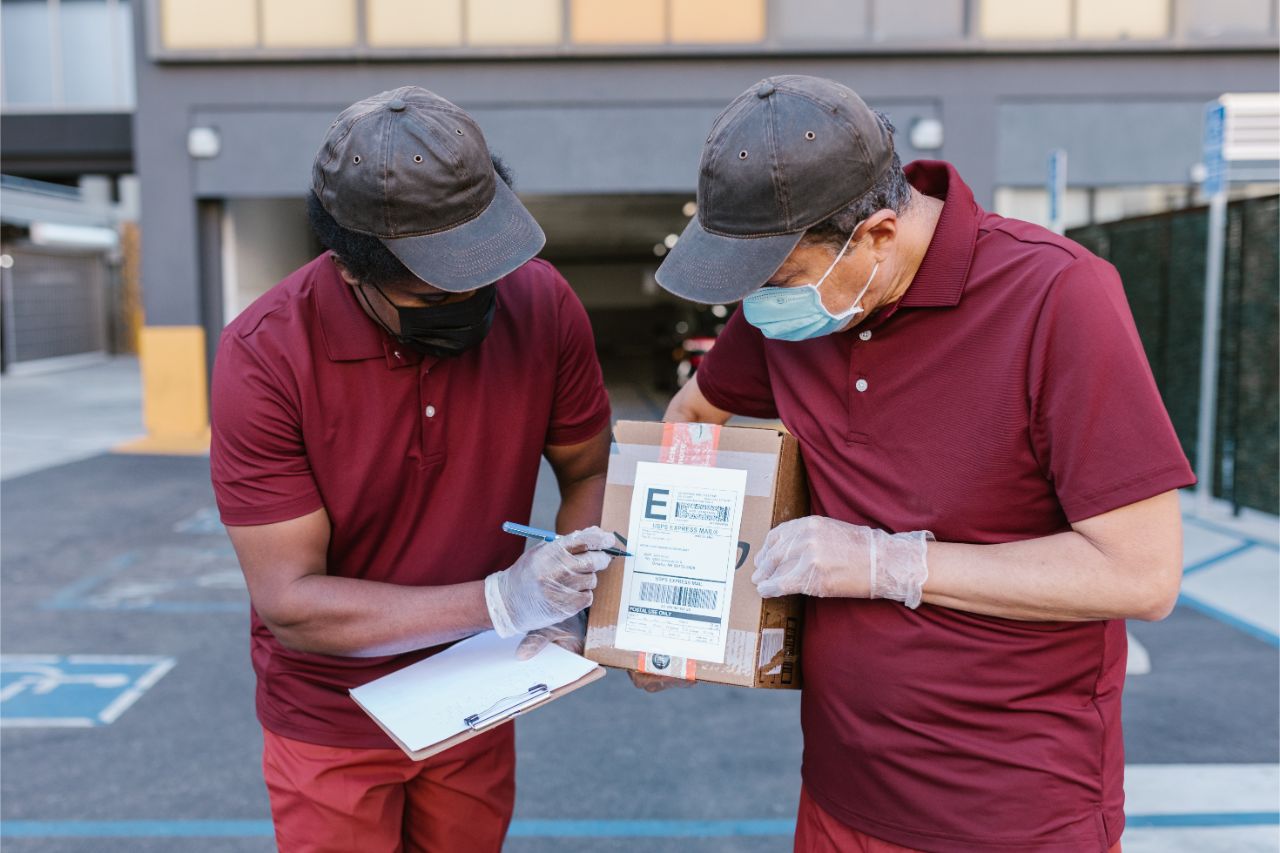 Shopify
If you're an American seller or merchant, Shopify also lets you buy and print USPS shipping labels. And similar to Etsy's Get Shipping Labels, you'll receive discounted rates if you're buying your shipping labels through Shopify. The rate for Priority Mail, Priority Mail Express, First-Class Package Service, and First Class Package International differs based on the plan you have with Shopify. Meanwhile, all other USPS classes have tiered discounts.
The shipping cost is calculated based on the package weight and dimensions, shipping method, source and destination addresses, and discount based on your Shopify plan is considered. The package requirements follow those of USPS: a maximum weight of 70 lb (31.75 kg) and a maximum girth and length combined of 108 inches (274 cm). 
You can check out the details on how to print shipping labels bought through Shopify here. For more details about Shopify shipping with USPS, click here.
Whether you can send your items as envelopes or packages depends on how thick your bubble mailer is. If it's 0.75-inch thick (3/4) or less, it is considered an envelope. More than 0.75 inc, it will be sent as a package. Depending on its weight, you can choose the mailing service options for your package.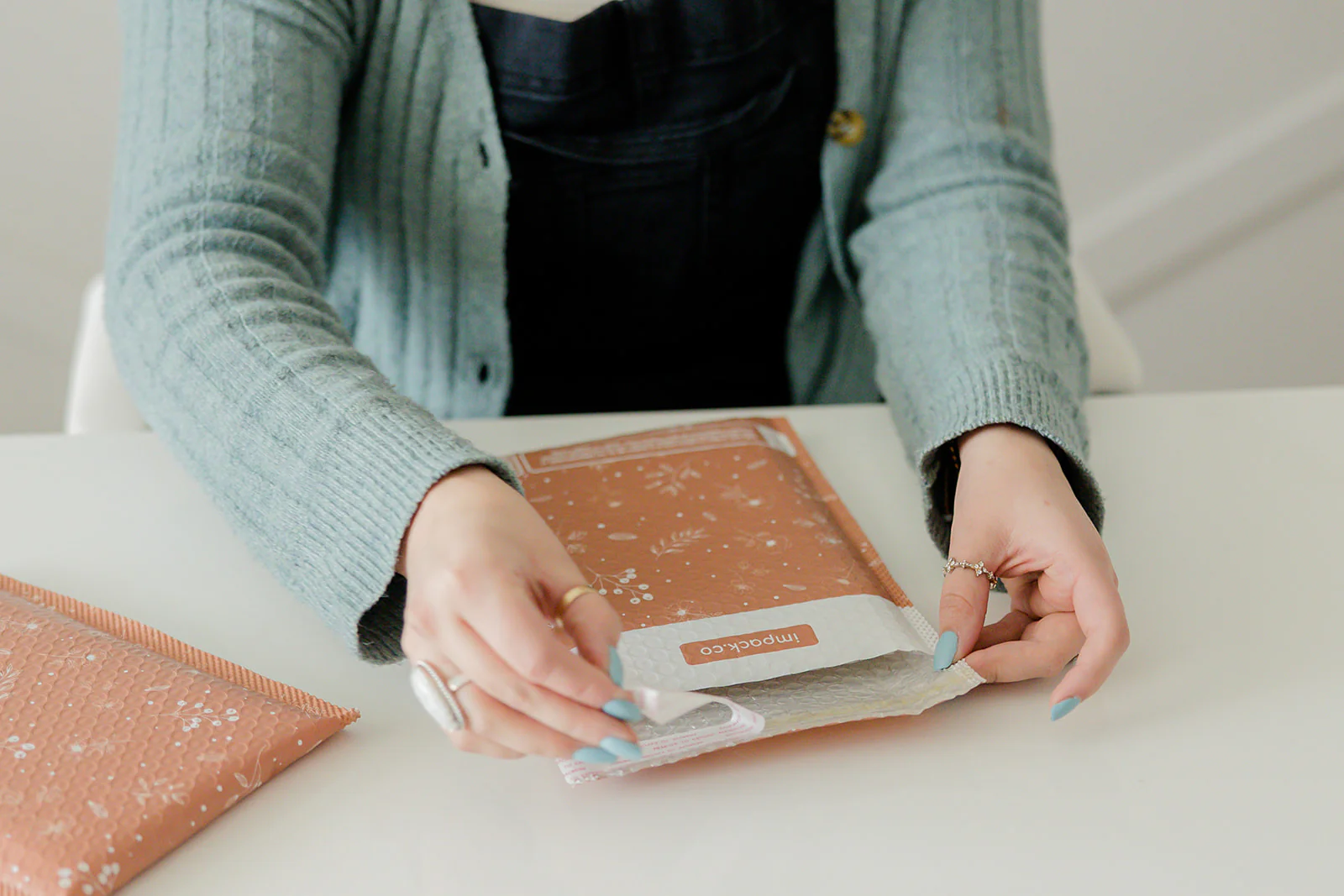 If you need beautifully designed and biodegradable bubble mailers to send using stamps, check out our 6 inches x 9 inches bubble mailers at Impack. These mailer bags are durable, reusable, and eco-friendly as they are made from biodegradable materials. They are perfect to ship small items such as clothing and accessories and reduce your carbon footprint at the same time.
The Bottomline
Mailing packages using stamps is the cheapest way to send items. The kind and cost of service you will need to mail your package will mainly depend on the shape of the item you're sending, its weight and dimensions, as well as the distance it will travel.
USPS offers various mailing services that differ according to the shape of items to be shipped, the speed of delivery, and the cost. Priority Mail, Express Mail, and First-Class Mail are the commonly used services. If your package weighs 13 ounces or less, you can send it using First-Class Mail. A package that's more than 13 ounces but does not exceed 70 pounds can be sent using Priority Mail and Priority Mail Express. The combined length and girth of these packages should not be more than 108 inches.
In addition to USPS mailing services, other alternatives are Etsy's Get Shipping Labels service and by using Shopify, which also allows American merchants to print shipping labels.
For more packaging and business tips and tricks, click here.